More than half of schools now run lengthened Key Stage 4 history courses, effectively shortening Key Stage 3 to cater for the new, allegedly tougher GCSEs.
And now it's official! Marking of GCSE history examinations is prone to greater variation than virtually every other subject- greater even than English Literature. As you can see from the accompanying image produced by OFQUAL on 5 March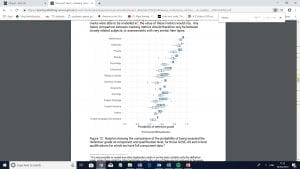 Read more
Place-name evidence is really important to historians studying the Vikings. Not only is there so much of it, it is also very descriptive and helps us with everyday Norse language when the written sources are so scarce. We already know where to look for Viking place-name:...
Read more
Highlighting text is a commonly used technique in history teaching right up to, and including A level. I have spend many a deliriously happy hour on inspection looking through so many psychedelic folders positively glowing with neon yellow highlighter pen. But is this a little...
Read more
One of the more interesting features of the Seaside holidays topic is the fact that it opens up discussion , even for young children , on what these novel features were built for. It is unlikely that many children will have first-hand experience...
Read more
With the OFSTED Framework for 2019 very much in mind the clever people at OneBigHistoryDepartment have come up with a list of questions to ask yourself about your KS3 history curriculum
Intent:
Read more
Given Richard' failure to capture Jerusalem, his incarceration and his absence from England how could he still be called Lionheart rather than loser? How can he possibly deserve his statue outside the House of Commons? In this 2-part enquiry pupils look at why...
Read more
Chronology is difficult for young children. They generally get batter as they get older, as they can relate one period to the next in context. Of course they can learn the order, much as they can remember a rhyle for sequencing the monarchs,...
Read more
Football is a religion. As early as 1000 year ago the ancient Mayan ball game drew huge crowds, not just for its entertainment value, but also for the religious significance of the sport. By looking into this ancient game we can draw startling parallels with many sports...
Read more