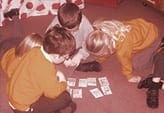 There has been very little published research on the views of infants on their history work. I think we might be able to predict that most pupils would be positive about their experience, especially if it were taught in a lively way with plenty of good stimulus material. Children usually like the content, especially of the famous events and people.
So what else could pupils tell us, apart from whether they enjoy it?
I think it is worth discovering, as you already do I'm sure, what their views are on:
The topics they liked best, and why ;
The aspects of the history topic they liked best and why;
The activities they thought were most successful;
What helped them to learn (harder one this);
Which piece of work they were most proud of ?
Anything that might have made the lessons better.
How you elicit this information will be up to you, probably following the style of conferencing you already follow in the core. It is worth analysing and recording the main findings from the evidence of pupils' views so that you can modify the curriculum, the planning and the learning activities if necessary. You will want to weight this