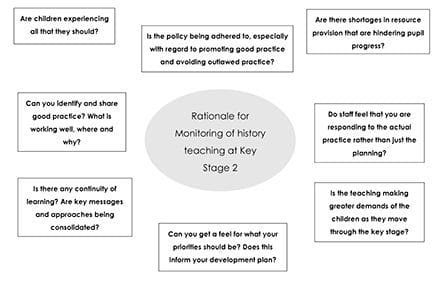 You will, at some stage, need to monitor standards and the quality of learning in history. The quality of teaching will also need to be looked at, but how you do this will need to be discussed with the headteacher, as it is highly sensitive. The best advice on making judgements on standards can be accessed through the assessment section of the site, specifically Judging pupils' work.
This section of the site offers separate files of advice on:
the rationale for monitoring. This file looks at how and why to monitor and offers a guided template on which to record your monitoring progress.
the ways you might choose to monitor what to look for when monitoring history in your school
interviewing pupils.
We all know that it is virtually impossible to improve your subject unless you have a clear idea of what is going on within it, in terms of standards being achieved in each year group, the quality of teaching and the pupils' learning experiences. We also know that monitoring other colleagues' teaching is fraught with difficulties. So before we rush in to 'go forth and monitor' we first need to stand back and ask 'What will improve