Great resource on Mary Seacole 
https://www.mylearning.org/stories/mary-seacole/199?
There are three games and an interactive glossary, each one narrated by Mary Seacole.
The games are:
Meet Mary Seacole: an introduction to Mary Seacole
Herbal Remedy Matching Game: pupils select picture cards so that illustrations relating to Mary Seacole and herbal remedies are correctly paired up
Make a Medicine: correctly match medicine and equipment to treat patients with a variety of complaints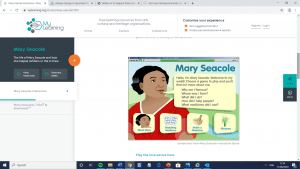 Resources on Florence Nightingale. The same site offers a detailed narrative of Florence's life with some watercolours you won't see elsewhere.
https://www.mylearning.org/stories/florence-nightingale/1059?
Featured here is a commemorative medal